About Us
History
Clear Air Aviation LLC is a small flight training operation located at the Buffalo Lancaster Regional Airport (KBQR) just a five miles east of the Buffalo Niagara International Airport (KBUF), and proudly serves all of Western New York. Clear Air Aviation LLC opened its doors in August 2010 as a single-instructor operation with a handful of students. Now, however, the roster has grown to many new and regular student pilots, and many other customers who use Clear Air Aviation LLC for periodic training services.
Clear Air Aviation LLC was conceived with the notion that most local flight schools only get part of the formula for success or are successful in terms of profit, but not value or accomplishment of pilot certification for the students pilots. Having worked for various schools in the area, the founding instructor has taken what works and thrown out what doesn't work. Clear Air Aviation LLC defines a successful flight school simply as one with an impeccable safety record, a place to learn and have fun, but most importantly,straight-forward student success in their flight training. Take care of your clients and they will take care of you.
Clear Air Aviation LLC is a newer venture, but so far in its short history, it has met the criteria for a successful flight operation, and will continue to strive to be the best.
The Name...What's it Mean?
The name "Clear Air Aviation" LLC actually has a two-fold meaning. On the one side, clear air is analogous to, well, clear air! Clear air is far easier to operate in as a pilot compared to hazy or foggy conditions. This means that our students receive instruction that makes the complicated task of learning to fly clear and easy.
The other side of the name comes from NEXRAD radar displays that pilots use in weather briefings to look at precipitation intensity and movement. You've most likely seen NEXRAD displays on your local news weather segments.
NEXRAD radar has two operating modes, "Precipitation Mode" and "Clear Air Mode." Clear Air Mode is the more sensitive of the two, displaying much smaller radar returns as it can pick up on much smaller droplets of moisture. In other words, it picks up on the little details that you wouldn't otherwise see in the normal Precipitation Mode. Therefore, "Clear Air" can be interpreted as "attention to detail." It's the small details in a pilot's training that are easily overlooked by less than stellar flight training operations, and if these details are given attention, a much safer, proficient pilot is created.
Mission
As the name suggests, Clear Air Aviation LLC is about learning to fly in an environment free from distractions and focusing on one goal: to help you become a serious and safe aviator. Regardless of your reason for learning to fly, you will receive a top-notch aviation education with Clear Air Aviation LLC. In order to make the learning process efficient and effective, your training is to be tailored to fit your needs, and is done at your own pace with customized scheduling.
Patrick Finnegan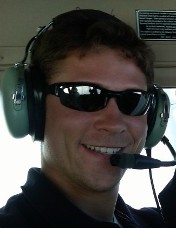 Clear Air Aviation LLC's founder is an expert aviator and highly experienced Flight Instructor and Airline Pilot. He holds a Mulit-Engine Airline Transport Pilot Certificate as well as CFI and CFII, MEI (Certified Flight Instructor (Basic and Instrument) and Multi-Engine) Certificates, as well as Embraer 145 and Boeing 747 type ratings. Patrick has achieved Gold Seal status on his Instructor Certificates, which is awarded by the FAA only to those who demonstrate a high degree of instructional activity and success. He also possesses a Bachelor's Degree from the University at Buffalo.
With over 6,000 accident and incident free hours total flight time, well over 3,000 hours of flight instruction and thousands of hours of ground instruction given, he and the team of flight instructors have the knowledge and experience to help you make your aviation dreams become reality
As a flight school, we have a 'student first' philosophy with our training. What this means to you is that your time, personal goals, and of course, quality of instruction are our top priorities. We take great pride in our attention to detail while training students to be safe and competent pilots. Because of this, we have received much acclaim from the local aviation community. We enjoy what we do because we genuinely like helping people with little or no experience in aviation to become licensed pilots!