Learning to Fly in Buffalo
Learning to fly in Buffalo can be an exciting and personally rewarding adventure! While it requires a commitment of time on the part of the student, almost anyone can become a pilot. The perspective pilot needs to be at least 16 years old to become a student pilot, 17 to receive a pilot certificate, and be in generally good health with vision correctable to 20-40 using glasses or contacts.
Learn to Fly Buffalo
The Learning to Fly in Buffalo process can be divided into three phases: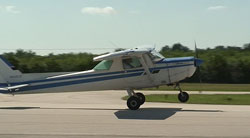 The Pre-solo phase is when the student receives dual instruction in the basics of aircraft control, airport operations (including takeoffs and landings), and FAA regulations.
The second is the Solo phase and consists of the student practicing on their own intermixed with dual instruction in the local area.
The third and final phase is the Cross Country phase and consists of both dual instruction and solo practice of the procedures involved in flying from airport to airport over long distances.
Along with these sections, the students will complete the knowledge portion of the training. When Learning to fly in Buffalo, several types of training are introduced including:
Private Pilot Lessons
Instrument Instructions
Commercial Instructions
Multi-Engine Training
Area Familiarization
Flight Reviews
Aircraft Checkouts
A student Learning to fly in Buffalo and applying for a pilot certificate must meet minimum knowledge and experience requirements established by the FAA, as well as pass a written and practical test given by FAA Designated Examiners. The minimum hour requirements are 35 hours of total training if using a FAA approved flight school, or 40 hours if receiving independent instruction.