Private Pilot Lessons Buffalo
To help you become a private pilot someday, you might be interested in taking Private Pilot Training Buffalo. Clear Air Aviation offers unique and exciting flight programs that can help you realize your dreams and goals to become a part of the aviation world. Although the private pilot lessons offered can be expensive, there are things that we can do to keep the overall cost as low as possible WITHOUT sacrificing quality!
These Private Buffalo Pilot Lessons will help you how to fly safely. As a student, you will have up-to-date Buffalo flight training. The number of hours for flight training may depend on the course you have chosen. Private pilot lessons Buffalo makes certain that you can fly at least four times a week. The school knows that the more a person flies, the more experience he/she can have, the better pilot they will become.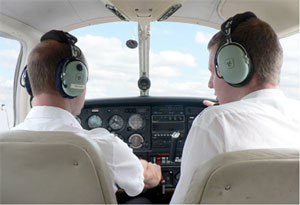 Get your Private Pilot Lessons in Buffalo
Study. To get the most of your money, you must study your lessons and apply what you have learned each time you have flight training. You must have an idea on how to fly a plane before showing up for your flight lesson. Keep in mind that a student taking private pilot lessons Buffalo who shows up to his/her flight lessons with profound knowledge about flying is more likely to succeed compared to students who do not have any idea of what is going on. By being prepared for every lesson, you can save thousands of dollars allowing you to make the most of your time while you are up in the air. Before you have your flight lesson, though, you must have enough sleep. And do not show up on an empty stomach.
Learn from your instructor. Flight instructors that provide private pilot lessons Buffalo can offer you high quality flying instructions. However, if you think or feel that your instructor is not offering you quality lessons or techniques on how to properly fly an airplane, then you must switch instructors immediately. This can help you avoid losing productivity. Rather, you will receive the best flight lesson you can get. You must only choose instructor who you think is doing what he/she must be doing. Keep in mind that individuals who enjoy their job can provide higher quality output. If your instructor is not happy with what he/she is doing, then you must replace him/her.
Keep track of your goals. Another way to get the most of your private pilot lessons Buffalo is to keep track of your aviation goals. You must focus on these goals to help you come up with a plan of action on how to achieve them through each flight lesson you undertake.
Keeping Private Pilot Training Buffalo costs low can be accomplished with the help of the tips mentioned above. By heeding to them, you can easily get the most of the money you have spent. It is also a good idea to keep track of your finances when taking private pilot lessons Buffalo. In this way, you will know if you are really getting the quality instructions that you deserve from the lessons provided.