Featured News - Current News - Archived News - News Categories
TD Flight Simulator Arrives at Clear Air
by system
Fri, Feb 18th 2011 12:00 pm

It's here! The Redbird™ TD flight simulator has arrived at Clear Air Aviation, and is fully operational. The first lesson has been conducted using the TD flight simulator, and is everything that was expected in terms of realism and functionality. All Clear Air Aviation students will receive their first hour for free to become oriented with the system, and then it is only $30/hr after that, plus the normal instructor rate.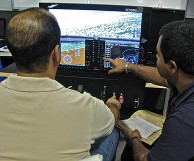 This system will add an enormous amount of value and quality to student training. All too often, many functions that need to be learned on the Garmin G1000 glass cockpit are done so at the normal aircraft rate of $145/hr. With the Rebird™ TD simulator, many of these functions can be introduced at a fraction of the cost. Not only will the 'buttonology' of the G1000 system be taught, but students can also experience new maneuvers in the simulator, easing many jitters that usually accompany new situations in the aircraft. This use alone makes flight training far more effective!
Contact Clear Air Aviation at 716-444-0232 or

for more information.