Featured News - Current News - Archived News - News Categories
David Kowalski Completes His First Solo
by system
One of Clear Air's youngest students makes an impressive solo flight.
Sat, Apr 30th 2011 12:00 am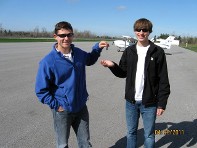 Congratulations to David on taking to the skies without his instructor and executing three flawless landings! Despite being only 16 years old, David is one of Clear Air's most proficient and experienced student pilots.
Click here to view all of our students' achievements!